In order to approve a loan on your home, the bank conducts an appraisal
In today's housing market, where supply is very low and demand is very high, home values are increasing rapidly. Many experts are projecting that home values could appreciate by another 4% or more over the next twelve months. One major challenge in such a market is the bank appraisal.
When prices are surging, it is difficult for appraisers to find adequate, comparable sales (similar houses in the neighborhood that recently closed) to defend the selling price when performing the appraisal for the bank.
Every month in their Home Price Perception Index (HPPI), Quicken Loans measures the disparity between what a homeowner who is seeking to refinance their home believes their house is worth and what an appraiser's evaluation of that same home is.
In the latest release, the disparity was the narrowest it has been in over two years, as the gap between appraisers and homeowners was only -0.5%. This is important for homeowners to note as even a .5% difference in appraisal can mean thousands of dollars that a buyer or seller would have to come up with at closing (depending on the price of the home)
The chart below illustrates the changes in home price estimates over the last two years.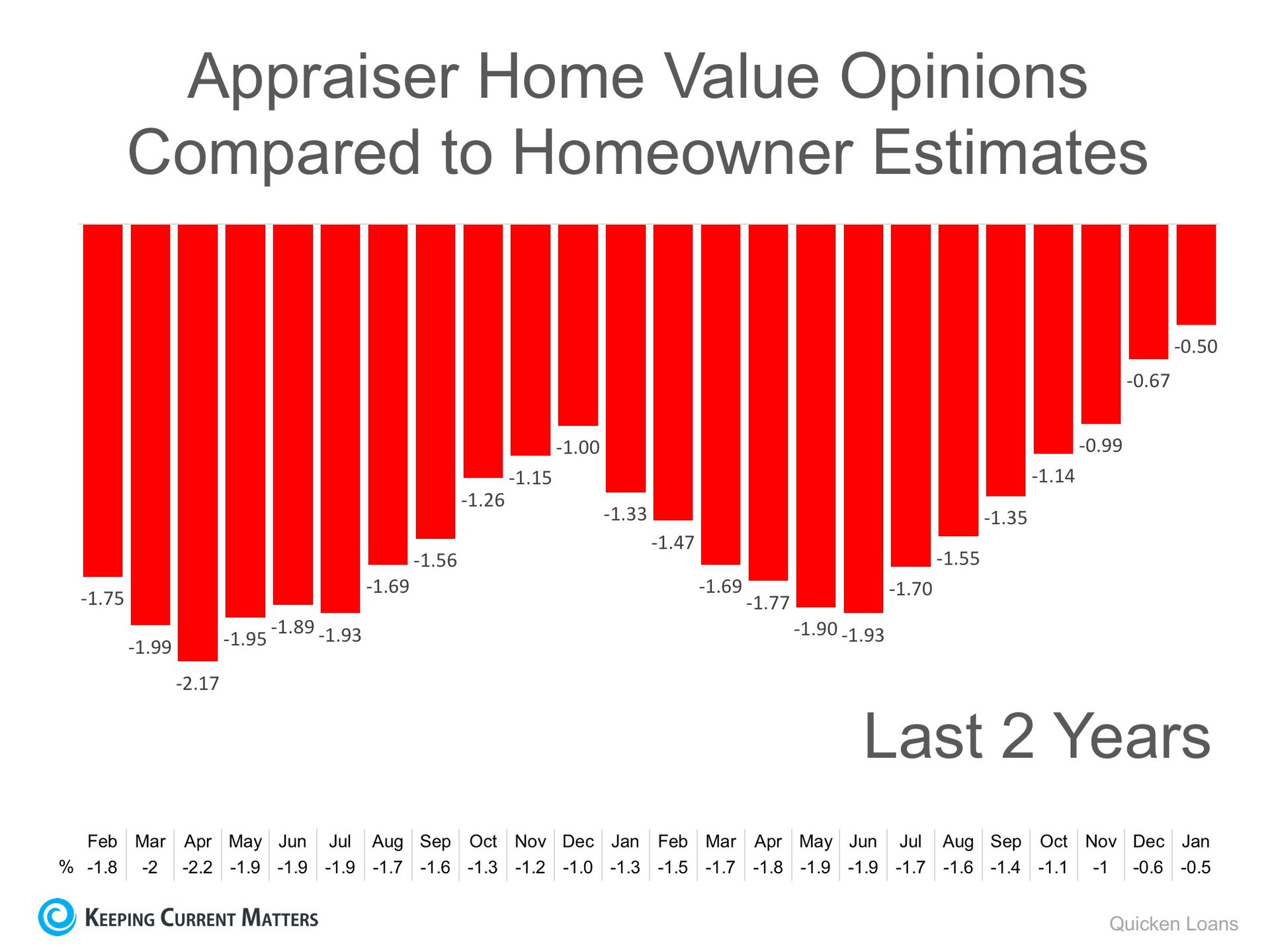 Bill Banfield, Executive VP of Capital Markets at Quicken Loans urges homeowners to find out how their local markets have been impacted by supply and demand:
"Appraisers and real estate professionals evaluate their local housing markets daily. Homeowners, on the other hand, may only think about their housing market when they see 'for sale' signs hit front yards in the spring or when they think about accessing their equity."

"With several years of growth, owners may have more equity than they realize. Many consumers use the tax season at the beginning of the year to reevaluate their entire financial life. It also provides a good opportunity for them to consider how best to take advantage of their equity while mortgage interest rates and borrowing costs are still near record lows."
Selling your house twice
Every house on the market must be sold twice; once to a prospective buyer and then to the bank (through the bank's appraisal). With escalating prices, the second sale might be even more difficult than the first.


So, how do appraisals work?

Q. What is an appraisal? How is it used?
A home appraisal is an unbiased estimate of the true (or fair market) value of what a home is worth. All lenders order an appraisal during the mortgage loan process so that there is an objective way to assess the home's market value and ensure that the amount of money requested by the borrower is appropriate. The appraisal can include recent sales information for similar properties, the current condition of the property, and the location of the property, i.e., insight as to how the neighborhood impacts the property's value.
Q. Who appraises the home and how do I know they will do a good job?
Appraisals are conducted by highly-trained professionals who are licensed and/or certified to determine the value of a home fairly, objectively and without bias in the state where the property is located.
While no appraiser is infallible, his or her opinion of the value of your home is informed by rigorous training, numerous tests, several years of on-the-job experience and required continuing education. They are also required to substantiate every finding in their reports that could influence a home's value. Appraisers and their employers (often appraisal management companies) are heavily regulated. Consequences of issuing deliberately misleading or biased reports can be severe, so appraisers work hard to remain impartial and keep personal value judgments and prejudices out of their work.
Q. What are Appraisers really looking for?
Remember this: appraisers are looking at the condition of what's permanently part of or attached to the house. They're not evaluating the décor or furniture or anything that's not affixed to the property; what's most important are your home's physical characteristics (age, square footage, the number of bedrooms and baths, lot size, location, view) as well as their observable condition.
Q. How can I boost my home's appraisal value?
If you're trying to sell your home, there are lots of relatively inexpensive things you can do to improve your home's appraised value.
Unmade beds or a few dirty dishes won't affect your value, but plaster cracks, water-stained walls, soiled carpeting, pests, or persistent odors might. Patch the walls and do other touch up work to put your best face forward.
Appraisers often value houses in $500 increments, so if there's a repair over $500 that can or should be made, do it. Fix leaky faucets, broken windows and cracked ceilings.
Check your curb appeal. Overgrown landscaping and broken garage doors will work against you and your appraisal—especially if property values have declined in the neighborhood. Take the time to make the outside of your home look welcoming, like someplace you'd want to buy or visit.
Itemize your improvements. Jot down the repairs and updates you've made over the years, when you did them and how much they cost. Remember the items that an appraiser might not notice, like a new roof or insulation—and even minor items like a new kitchen sink count too. Please note that improvements do not represent a dollar for dollar increase in value, but every little bit helps!
Display your neighborhood pride. If there have been positive changes to your neighborhood—like new schools or new roads—let the appraiser know.
Don't show your age. The newer your home appears to be—regardless of its actual age—the better. Bring carpet, tile, windows and other permanent fixtures into the 21st
Q. What can I do if I'm not happy with the Appraisal?
Once you've read the appraisal report and reviewed the appraiser's supporting documents, you can challenge it if you think it is inaccurate or doesn't take into consideration new or important data about the property or comparable homes. Most lenders review appraisals through a strict system of checks and balances that compares the appraisal report to other appraisals on all known sales in your neighborhood. This internal review system can catch discrepancies that should be investigated, but any information you can provide to your lender will help.

Q + A courtesy of Discover.

If you are planning on entering the housing market this year, meet with a West + Main Homes agent, who can guide you through this and any other obstacles that may arise.

Posted by West + Main Homes on